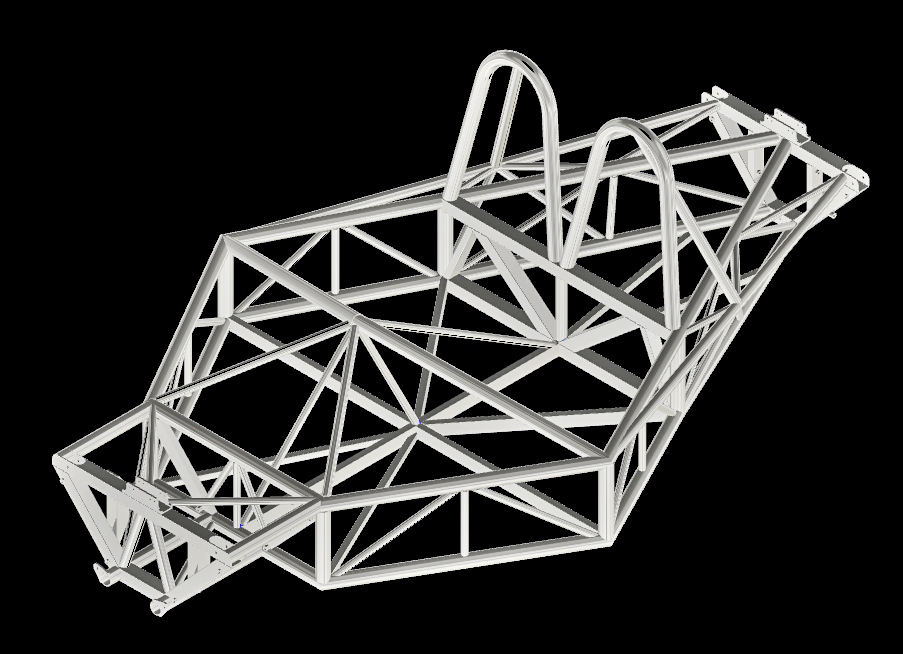 An Overview:
The design for the car started as a space frame concept.
Torsional frame stiffness is a feature I consider essential as it not only improves handling
but also road manners and makes for a more solid feeling car.
To solve the problem of triangulating the frame top bays, this design uses a very wide top triangle
into which the driver and passenger as well as the engine are located.
A torsion test proved it to be a substantially stiff frame design.
The shape of the frame with the wide centre section defines the body shape.

The look of the car is really a mechanical fantasy that reflects my love of vintage GP cars,
open cockpit aircraft, land speed record cars, and some really cool minimalist hotrods.
The mid-engine 1930's Auto Union GP cars were certainly a major inspiration.

The suspension design uses tubular wishbones which are light and easy to make.
One can design in whatever characteristics you want from roll centre placement and behaviour
to camber curves, caster, and elimination of bumpsteer etc.
The inboard spring/dampers units allow for better control over wheel rates and a clean layout.

We hit the road July 20 2016, a very exciting moment for sure.

The Nuvolari Specifications:


name



Alfie

body


hand formed aluminum



frame


tubular aluminum space frame



suspension front / rear

fully independent with unequal length wishbones
pushrod actuated inboard spring/damper units


cooling



front mounted aluminum radiator

steering

rack and pinion

wheelbase

111"

track front / rear

59" / 59.5"

overall width

70"

overall height

46" (to top of roll over bars)

overall length

147"

ride height front / rear

6" / 7.5"

tyre size front/rear

6.00R16 28"OD / 7.00R16 29"OD
curb weight

1450 lbs
fuel capacity

40 litres (in bladder type fuel cell)

engine

2.0 litre Alfa Romeo aluminum Twin Cam


power



adequate

oil capacity (dry sump design)

8 litres

coolant capacity

10 litres


gearbox/transaxle



VW Type 1 built to AMW spec by Rancho Performance


top speed



pardon officer?